International Fabrication Standards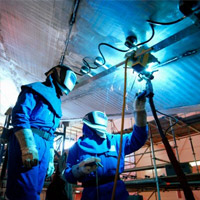 The Mechanical Engineering parts for all our Turnkey Projects are executed at our fabrication workshop in Chennai, India or at those of our associates under our supervision. All the fabrication strictly adheres to internationally recognized standards like ASTM, DIN, BS, ISI, NFPA other European standards etc. Based on the requirements of our customer, CCI can conform to any needed local and/or international standards.
Independent verification for all fabricated items can be provided by third-party Quality Control inspection agencies like Bureau Veritas, SGS, Tata Consultancy Services etc. prior to shipping to the site, as per the requirements of our customer.